KALA Annual Day Celebrations 2022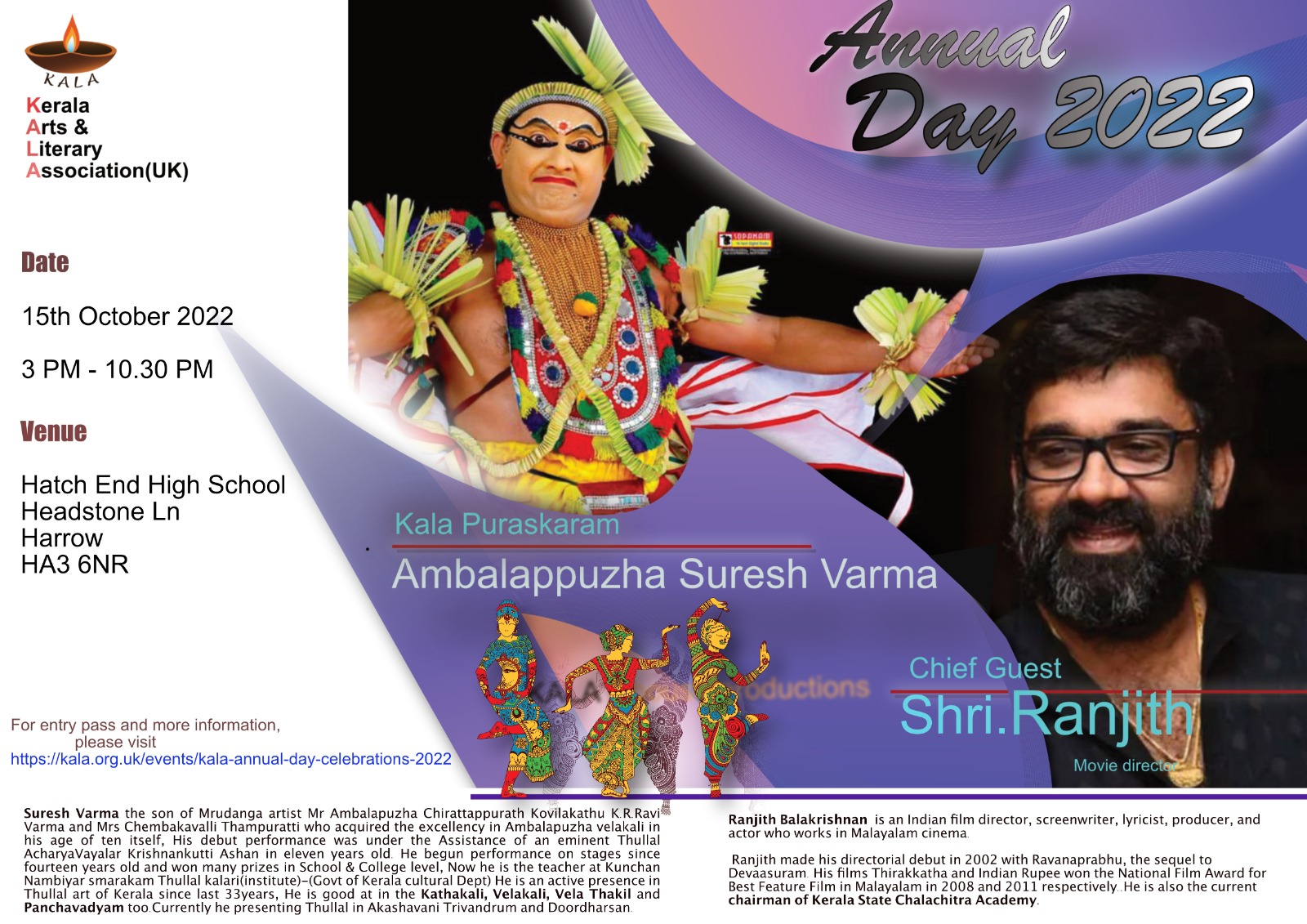 Event Date:
15 October 2022
Event Location:
Hatch End High School
We warmly invite you all to join our 26th Annual Day celebrations on 15th October 2022 at Hatch End High School, Headstone Lane, Harrow (London), HA3 6NR.
The programs will start with Reception at 3:00 PM and will end by 10:30 PM.
Our Chief Guest for the event is Shri Ranjith Balakrishnan, renowned Film Director, screenwriter, producer and actor. He has directed several movies including great hits such as Spirit, Indian Rupee (National Film Award 2011), Pranchiyettan & the Saint, Paleri Manikyam and Thirakkatha (National Film Award 2008). His directorial debut was Ravanaprabhu (2002), the sequel to Devaasuram. Shri Ranjith will honour us with his presence and interactions during the event.
Our KALA Puraskaram this year goes to Shri Ambalapuzha Suresh Varma, a pioneer in Thullal Kalaroopam. He has won numerous awards, including the Thullal Natyarathna Award by Guru Gopinath trust (2014), Kerala Kalamandala pradhama Sougandhika puraskararam (2017) and Malabar Raman Nair Ashan Puraskar (2021). Shri Varma will entertain us with a Thullal performance and will demonstrate Thullal variants.
KALA performances this year will include our Mega Dance-Drama Production "Dashavathara" and a variety of programs by our members, including "Chowalloor Anusmaranam" – a program dedicated to Kala's soulmate late Shri Chowalloor Krishnankutty.
As this is our first face-to-face annual since the pandemic, it would be great for all of us to be together for the annual again and share the exciting afternoon of nostalgia and entertainment.
As usual, we will be serving a sumptuous Dinner during the evening.
Please bring along your friends and their families and make this program a grand success!
Note:
1. Paid members of KALA need to log in to get the Member prices for the Passes. All others can pay for the passes without logging in.
2. Members should use their emails as registered with KALA. Member prices are only available to these logins.
3. First time users (or if you have forgotten your credentials) click on "Forgot your Password" in the login screen to reset it.
4. Non Members and Guests are welcome to pay for the passes and attend.
5. Passes with QR codes are sent to the attendee emails and need to brought to the venue for entry.
6. Member prices are for Members and immediate family (spouse/children)
7. Members bringing guests along should purchase Guest passes. You will see the option to purchase these once you are logged in.