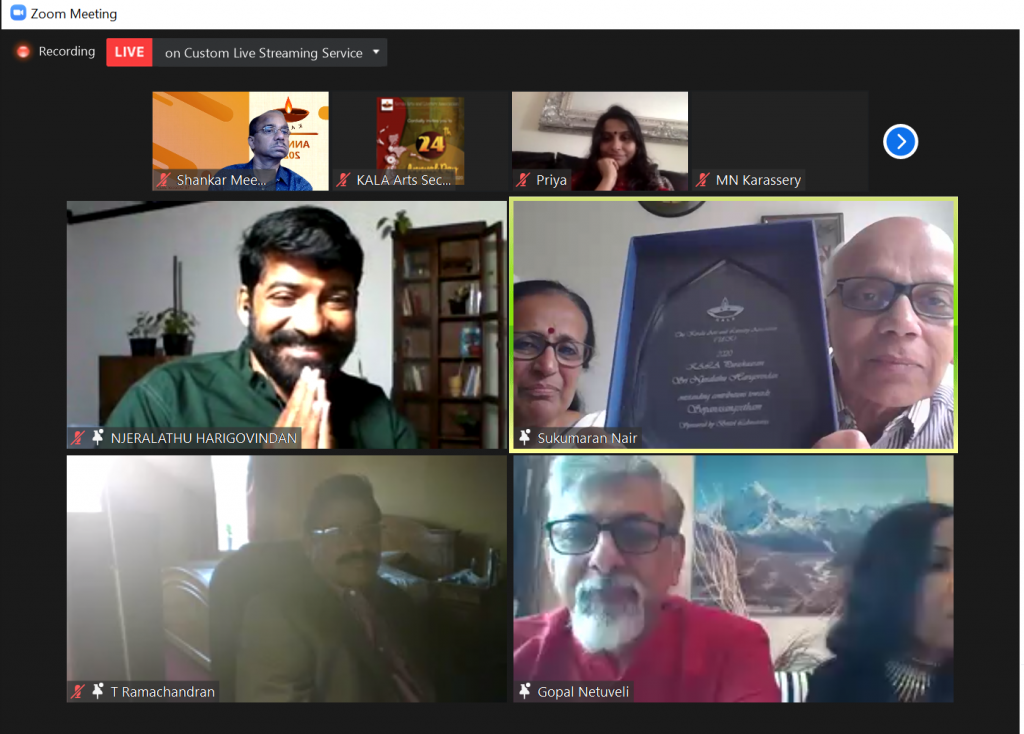 Kala Puraskaram – 2020
Kala Puraskaram awarded to

Njeralathu Harigovindan
Uniquely Keralan, the Sopana Sangeetham originated in the triad of song, instrumental and dance and the blending of styles of the traditional Kavu Pattu with Ashtapadi. The evolution of Kerala music can be traced back to this art form. Reduced to a ritual, this art was on the verge of extinction when a new revival occurred. This award is a testimony to that.
Njeralathu Harigovindan is at the spearhead of that revival, which started with his father Njeralathu Rama Poduval, who brought Sopana Sangeetham out of the temple walls to the streets. Harigovindan went further spreading the artform with a missionary zeal. He liberated Sopana Sangeetham from its location, the traditional content and the theme making it a musical tradition rather than a ritual, ensuring its continuity
Kala Puraskaram awarded to 

Dr G. Indu
Nangiarkoothu is one of Kerala's ancient art forms that is a part of Kootiyattam, which UNESCO has accepted as an oral and intangible: heritage for humankind. Nowadays Nangirkoothu is often performed independently on its own.
Dr G. Indu has played a great role in the creation of this identity for Nangiarkoothu. She trained under Sri Moozhikkulam Kochukuttan Chakyar and Sri Margi Madhu starting at an early age balancing the multiple and differing roles in her life to practice the artform with the utmost dedication. She shines not only as a performer but also as an academic with a PhD based on Kootiyattam.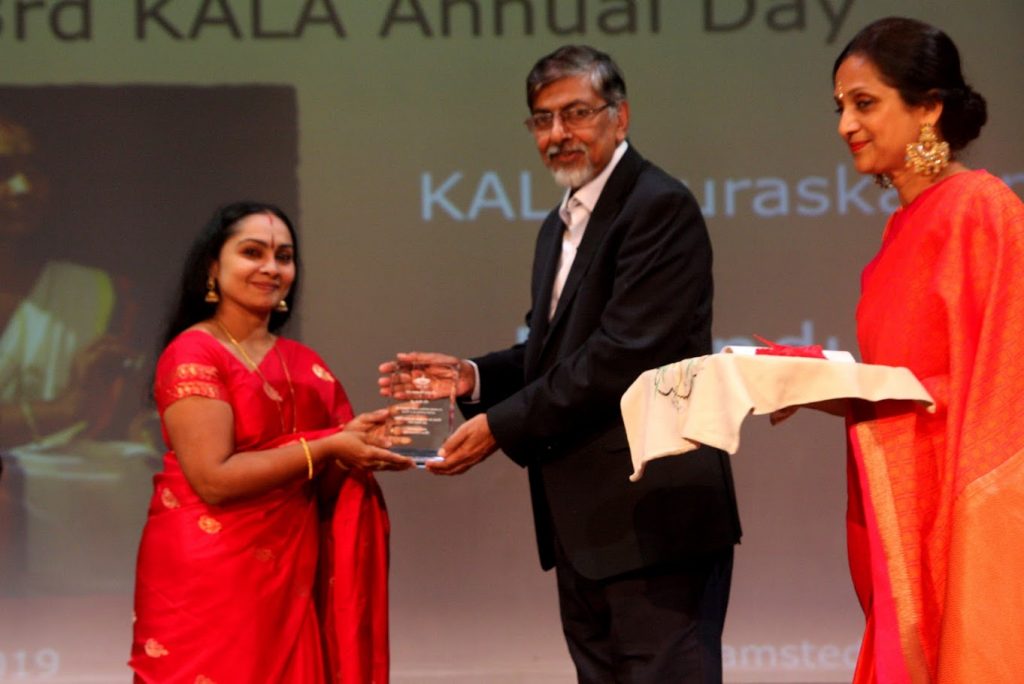 Kala Puraskaram – 2019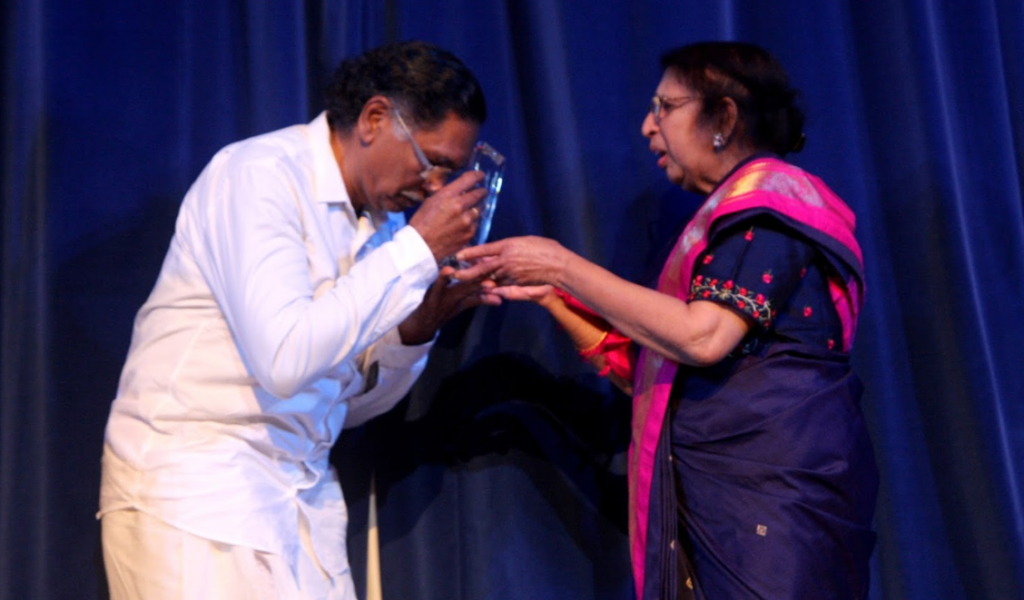 Kala Puraskaram – 2018
Kala Puraskaram for 2018 was awarded to

Prof V Madhusoodanan Nair
A poet who unfettered Malayalam poetry from the limits of letters and broke it into the world of sounds; Professor Madhusoodanan Nair is presently the foremost oral poet in Kerala. "It is the eminence that prompted KALA to award him Kala Puraskaram 2018 for pushing the frontiers of Malayalam poetry"
Kala Puraskaram awarded to 

Sri Nelliyodu Vasudevan Namboodiri
Shri Nelliyode Vasudevan Namboodiri is one of the inspired geniuses behind the ferocious red bearded character or 'chuvanna thaadi vesham', (pictured on the back cover). The characters portrayed through this vesham are usually raakshasans (demons), asuras (personifications of evil) and cruel kings. He is widely acclaimed as the most talented of Kathakali artistes to present the chuvanna thaadi vesham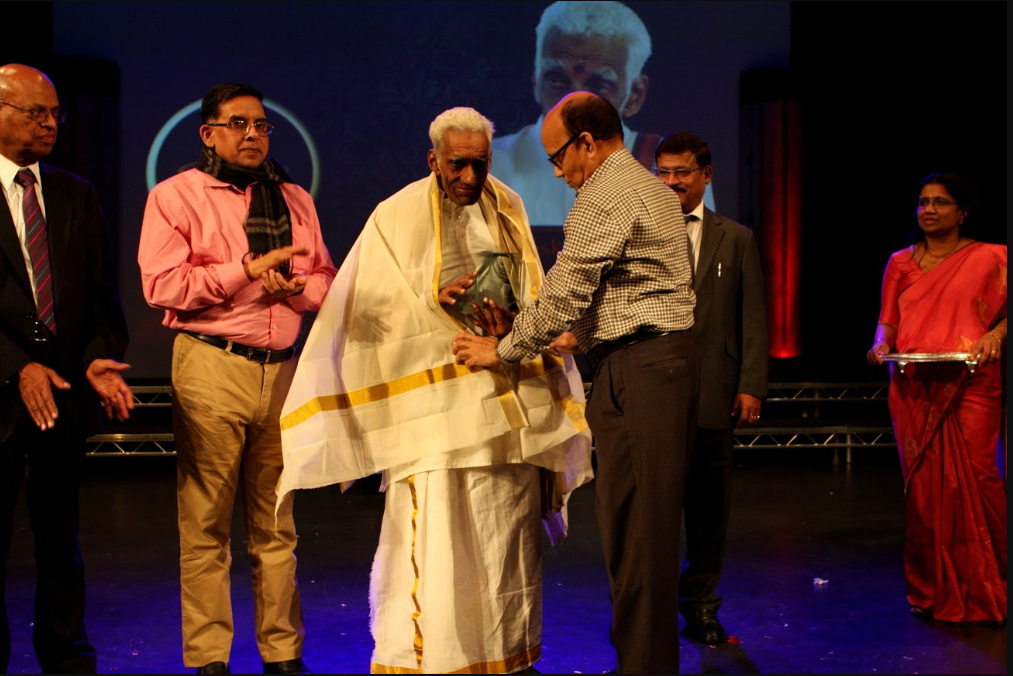 Kala Puraskaram – 2017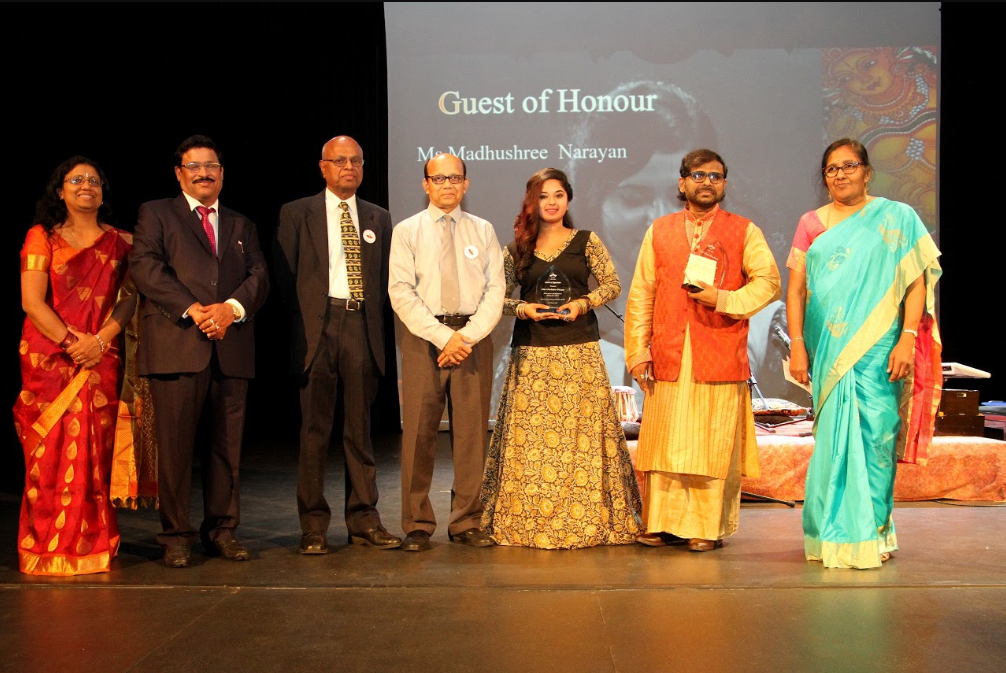 Kala Puraskaram – 2016
Kala Puraskaram awarded to

Pandit Ramesh Narayan
Padit Ramesh has been a fan of music from childhood and hails from a very talented musical family – his father, the late Narayana Bhagavathar, was a well-known musician of his time and his mother, blessed with priceless Swarashuddhi. His own little family made up of wife, Hema, and daughters Madhuvanti and Madhushree, are also musically gifted.
Kala Puraskaram awarded to

Sri Ettumanoor Kannan
Born in 1968, Kannan started his Kathakali training at the early age of nine. For the next 22 years, he trained in Kalluvazhi (Northern) style under great and celebrated masters like Kalamandalam Vasu Pisharodi (disciple of Padmasree Vazhenkata Kunchunair), Kalanilayam Mohankumar (disciple of Guru Kalamandalam Kuttan) and Padmasree Mani Madhava Chakyar. The versatility of Kannan can be perceived in the multiple personae he presents: the Performer, the Academician, the Lecturer, and the Director. In Kathakali, Kannan shines in pacha and kathi roles. Perhaps Kannan's uniqueness lies in his treatment of Kathakali academically and translating it for the foreign audience.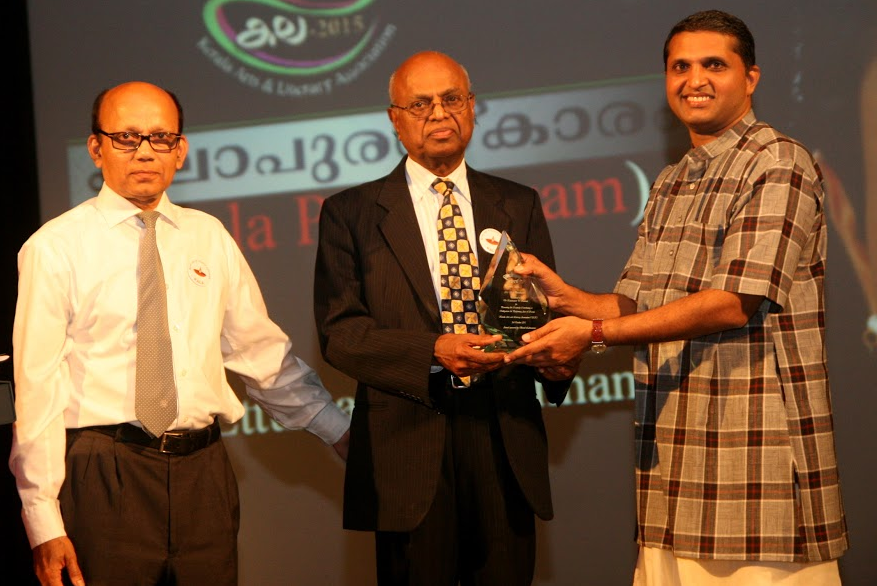 Kala Puraskaram -2015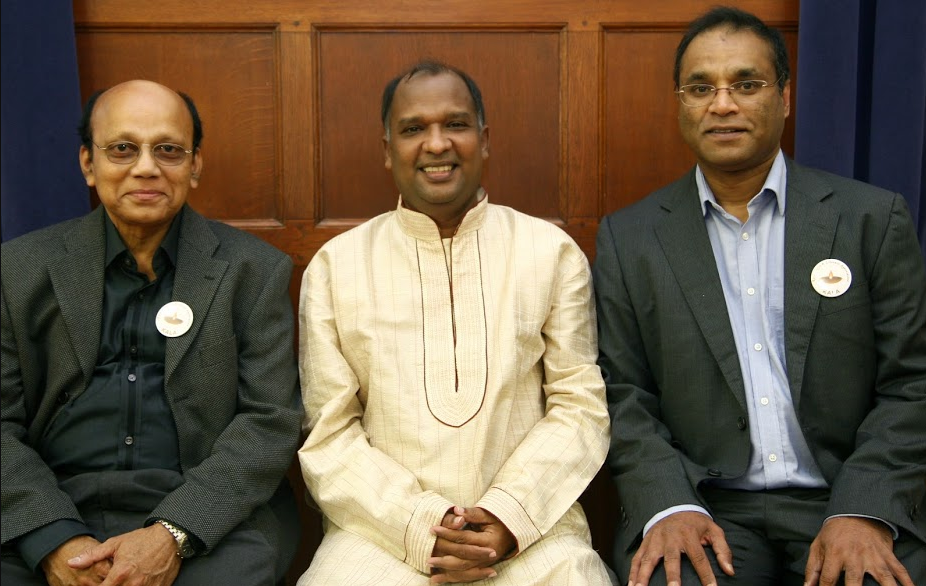 Kala Puraskaram – 2014
Kala Puraskaram was awarded to

Kudamaloor Janardanan.
Kala Puraskaram was awarded to

Guru Margi Madhu

 
Kutiyattam is, perhaps, the oldest theatrical art form in the world dating back two thousand years. Recognising this, UNESCO declared Kutiyattam as among the "Masterpieces of the Oral and Intangible Heritage of Humanity" in 2001. Kutiyattam is a Malayalam word which means "combined (kuti) acting (attam) and is a performed by male ( Chakyars) and female (Nangiars) actors, to the accompaniment of drummers (Nambiars) in temple theatres (Kuttampalams). Kutiyattam is used inclusively to refer to Kutiyattam, Nangiarkoothu (only Nangiars act) and Prabandha koothu (or Chakyar koothu, verbal acting by a single male actor).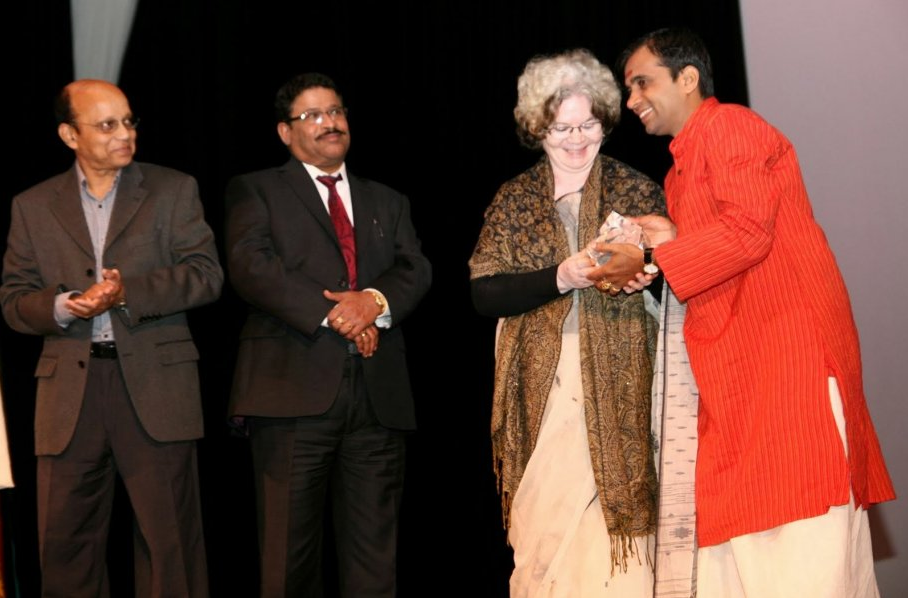 Kala Puraskaram -2013