Kala Annual Day – 2023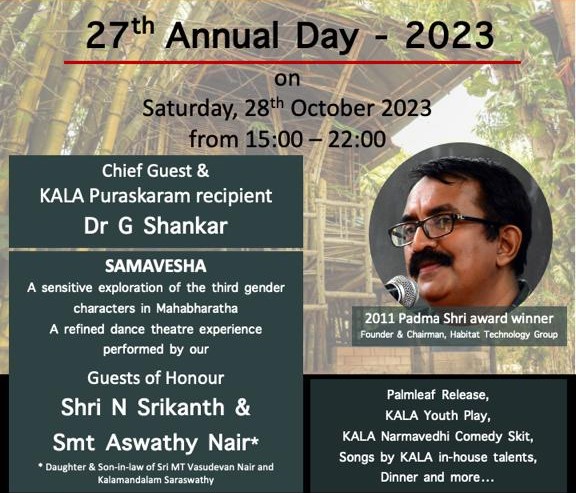 Event Date:
28 October 2023
Event Location:
Berkhamsted School Centenary Theatre
We warmly invite you all to join our 27th Annual Day celebrations on 28th October 2023 at Berkhamsted School Centenary Theatre at Kings Road Campus, Berkhamsted HP4 3BG.
The programs will start with Reception at 3:00 PM and will end by 10:00 PM.
Chief Guest and 2023 KALA Puraskaaram recipient – Shri G Shankar
● Meet the 'People's architect!
● A pioneer in green and sustainable architecture !
● Recipient of 4 National Awards from India Govt!
● Recipient of Padmashri in 2011
Join us  on the 28th to share the remarkable journey of Dr. G. Shankar, a visionary architect and a tireless advocate for community empowerment. His presence at our event promises to inspire and educate us about the transformative potential of sustainable architecture.
Watch gender transition live on stage!
For the FIRST time in the history of dance theatre !
Bharatnatyam and Mohiniyattom in tandem to portray gender conflicts in Mahabharata .
Sri.N. Srikanth the Bharatnatyam maestro transforms into Brihannala . Seamlessly switching between the feminine elegance and masculine valour.
Aswathy Nair a virtuoso in various dance styles will take you on an emotional rollercoaster as Shikhandi ,with her stagecraft.
Watch the art of Abhinaya taken to the stratosphere by this celebrated couple !!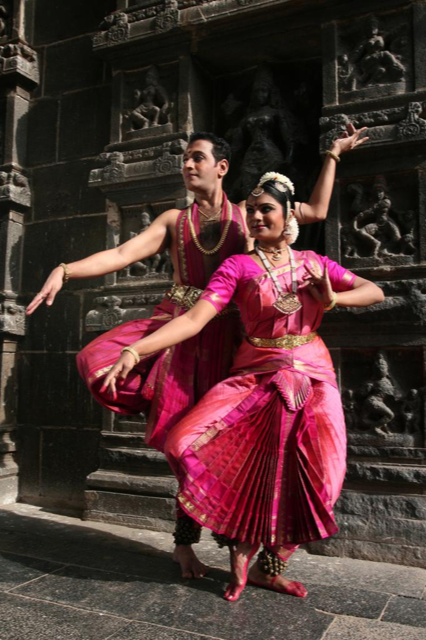 It would be great for all of us to be together for the annual again and share the exciting afternoon of nostalgia and entertainment.
As usual, we will be serving a sumptuous Dinner during the evening.
Please bring along your friends and their families and make this program a grand success!
Note:
1. Paid members of KALA need to log in to get the Member prices for the Passes. All others can pay for the passes without logging in.
2. Members should use their emails as registered with KALA. Member prices are only available to these logins.
3. First time users (or if you have forgotten your credentials) click on "Forgot your Password" in the login screen to reset it.
4. Non Members and Guests are welcome to pay for the passes and attend.
5. Passes with QR codes are sent to the attendee emails and need to brought to the venue for entry.
6. Member prices are for Members and immediate family (spouse/children)
7. Members bringing guests along should purchase Guest passes. You will see the option to purchase these once you are logged in.
8. Contact webmaster@kala.org.uk in case of any problems in purchasing the passes.
Sorry, this event is expired and no longer available.